Elvis Gospel Fan Club was birthed out of Elvis Gospel Ministries for those who enjoy the gospel music that Elvis sang and who would like to know more about that aspect of Elvis' life and music. We also have a "prayer corner" where requests for prayer can be sent click here for contacts page to fill in the box for your prayer request. These requests are prayed for in confidence.
The Club was established in April 1998. We are an International Fan Club based in UK, and function mostly through the Internet. We are registered at Graceland and officially recognised by Elvis Presley Enterprises.
Fan Club President is Madeleine Wilson
Fan Club Vice President is Peter Wilson
Fan Club Chaplain is Dr Tony Stone
If you would like to become an "E Member" (there is no charge) and receive our Fan Club News and regular updates by email please contact us, putting Fan Club News in the subject line
Our motto "Love never fails" is inspired by the "Love Chapter" in the Bible.
LOVE
If I speak in the tongues of men and of angels, but have not love, I am only a resounding gong or a clanging cymbal. If I have the gift of prophecy and can fathom all mysteries and all knowledge, and if I have a faith that can move mountains, but have not love, I am nothing.
If I give all I possess to the poor and surrender my body to the flames, but have not love, I gain nothing.
Love is patient, love is kind. It does not envy, it does not boast, it is not proud.
It is not rude, it is not self-seeking, it is not easily angered, it keeps no record of wrongs.
Love does not delight in evil but rejoices with the truth.
It always protects, always trusts, always hopes, always perseveres.
Love never fails. But where there are prophecies, they will cease; where there are tongues, they will be stilled; where there is knowledge, it will pass away.
For we know in part and we prophesy in part,
but when perfection comes, the imperfect disappears.
When I was a child, I talked like a child, I thought like a child, I reasoned like a child. When I became a man, I put childish ways behind me.
Now we see but a poor reflection as in a mirror; then we shall see face to face. Now I know in part; then I shall know fully, even as I am fully known.
And now these three remain: faith, hope and love.
But the greatest of these is love.
The above is one of Elvis' favourite Bible passages, 1 Corinthians 13.
This is taken from the New International Version
Because we concentrate on only one aspect of Elvis' life we are able to bring you unusual and often rare information, articles and photos. We feel very privileged to be able to do this.
We do have a subscription (Full) membership for those who are not on the Internet or those who also want to receive hard copy newsletters and occasional memorabilia.
If you would like to receive information on subscription rates for this please contact us, putting Full Membership in the subject line.
Although now our main activity is through the Internet, we have organised events in UK and Memphis. See below for reports of these: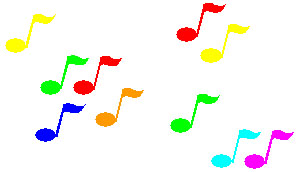 Elvis Gospel Fan Club Events
We have often been asked if we organise events. The answer is "occasionally". Most of our activity is writing and distributing the Quarterly Elvis Gospel Fan Club newsletter, which comes in a hard copy edition and also email edition. We have, however, hosted "A Tribute to Elvis" concert by a Christian tribute artist, Danny Owen and have held a "Thanksgiving Service for the Life of Elvis Presley" at our local church. We have also organised "Songs of Praise – Elvis Style" and several displays in our local Library and Information Centre. We attend as many Elvis events as we are able with our Elvis Gospel display unit. These activities have produced a lot of interest in the local, regional and even national press. Although Elvis is always newsworthy more importantly, Jesus is always Good News!
Elvis Week in Memphis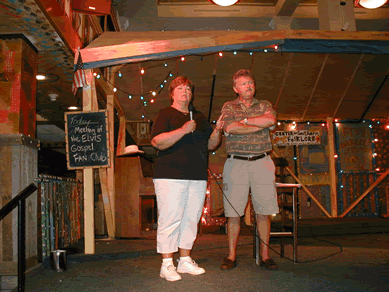 During the week, we had on display in the Center for Southern Folklore, an exhibition entitled,"Gospel Roots – Gospel Fruits" which traced in words and pictures the influence of the gospel in Elvis' life. On the Saturday at the same venue, we held our International Fan Cub meeting, and international it was! There were fans from USA, of course, but also Spain, Canada, Wales, England, Holland, Sweden, Belgium and Australia.
We had purposely decided to keep the format very informal. We had invited some of the gospel singers we know, who worked with Elvis, to call in just to meet the fans and chat, but because of the other Elvis Week commitments, most were not able to come. Donnie Sumner, however, had said that he would most likely be able to attend and he had sent me an email to confirm the time and place and dress code, but I did not receive the email until we got back to England! I was most apologetic to Donnie, but being the sweet person he is, he understood. We had a quiz, and then asked for fans to share their songs with us. Charles and Katie Hunter (pictured in the photo above) then introduced themselves. Katie's mum, who is 97 years old, is a cousin of Vernon Presley, so Katie was able to confirm what we already know, that Elvis was raised in a very loving, God fearing family. Katie's husband, Charles, sings in their church choir and he gave us a very beautiful acapella rendition of How Great Thou Art. Silvia Oudha, from Holland, had come with her ex mother- in-law, for the event. She told us her story of how Elvis' gospel music had helped her through the very difficult time of her divorce. It was a very powerful story and several of us were moved to tears.
Judy Peiser, the manager of the Center, was delighted with the meeting. The Center is designed for people come together to enjoy the music, and other art forms of the South. Our meeting fitted the bill exactly. I think I can confidently say that a good time was had by all! We are very grateful to Judy, who gave us so much encouragement and support.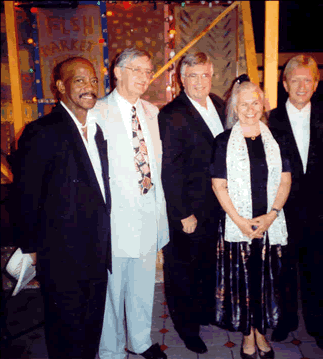 At another Elvis Week in Memphis, we held Gospel event at the Center for Southern Folklore. The highlight of this event was conversations with Terry Blackwood, Sherman Andrus, and Jim Murray, former members of the Imperials, who not only shared wonderful memories of their times with Elvis, but also shared with us, their own personal faith. A good time was had by all!
---
We also attend events and often have input into them. See reports below. Also we were very privileged to attend the induction of Elvis into the Gospel Music Hall of Fame.
Elvis Inducted into the Gospel Music Hall of Fame in 2001
On Tuesday November 27th 2001, at the People's Church in Franklin, Tennessee, Elvis was inducted into the Gospel Music Hall of Fame. Joe Moscheo, (former Imperial), Gordon Stoker, (member of the Jordanaires), and Ed Enoch, (former member of the Stamps), introduced Elvis as a Gospel singer, via video and from personal recollection. Jack Soden, CEO of Elvis Presley Enterprises, accepted the award (a medallion and a plaque) on behalf of Elvis. He also read out a letter from Elvis' daughter, Lisa Marie that said:

Gospel music was a major part of Elvis Presley's life, both personally and professionally. Some of his finest work is embodied in his gospel recordings – work that brought him and generations of his fans – myself included – a great amount of joy, comfort and inspiration. He felt a calling to reach out to others in this way, using his fame in other fields to bring gospel music to new audiences. In doing so, he made a profound contribution to the industry, which you are recognizing so beautifully and appropriately tonight.

I know how much his being inducted into the Gospel Music Hall of Fame would mean to him and I wish he could be there to enjoy receiving this wonderful honor. I join all our family and friends and all my father's loyal fans in thanking you. I'm deeply proud of my father and I'm so proud to see his work in gospel music receive this great recognition.

Thank you and God bless you all.

Lisa Marie Presley
The back of this medallion is inscribed with:
Elvis 2001

Madeleine Wilson displaying the reverse side of Elvis' medallion.

Posing for "official" photographs, are left to right, Frank Breeden, (GMA President), Gordon Stoker of the Jordanaires, Ed Enoch of the Golden Covenant, Madeleine Wilson (President of Elvis Gospel Fanclub), Joe Moscheo formerly of the Imperials and permanent member of the GMA Board, Jack Soden (CEO of Elvis Presley Enterprises)
Grateful thanks to Don Richmond for supplying these photos.
---
Our Floral Tributes at Graceland
When we are able we send a floral tribute to Graceland for display during Elvis Week or his birthday.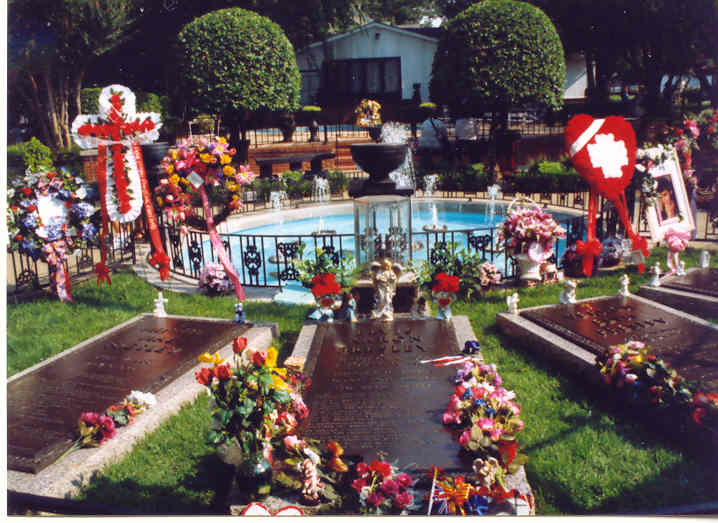 This photo shows our red and white Christian cross on the left of the photo. Close up of another year's below: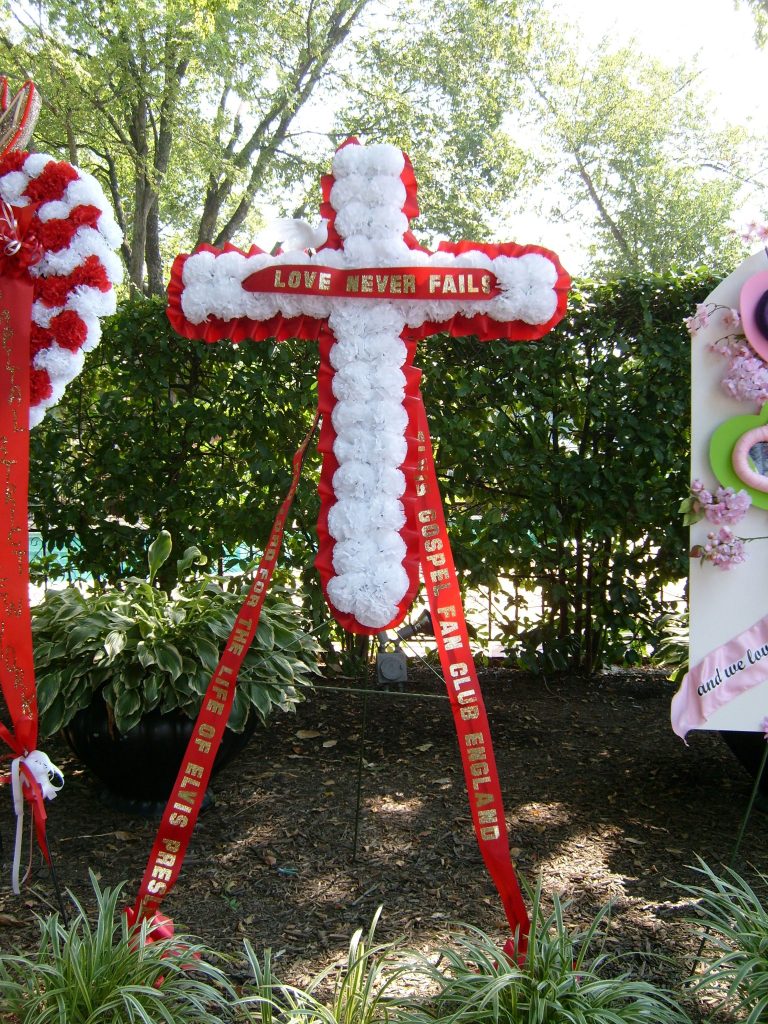 ---
Blackpool, England, UK
Walk a Golden Mile in My Shoes is the title of the European Elvis Tribute Artist Contest which was held in Blackpool at the Queens Hotel. The title is a reference to the golden sandy beach, which is part of Blackpool's attraction. Peter and I attended the event as we were asked to help organise the Wedding Vows Renewal and Gospel Service on the Sunday. We were also very honoured to also be asked to be judges of the contest semi-finals and finals! We felt that this was an awesome responsibility as these men put so much work into their acts; the singing, the moves, the costumes. Over the two nights we heard over 100 songs performed, some of them several times. We focused carefully on each artist, and were amazed at their dedication. It was so difficult to choose, as they were all so good, though it was clear to us those who just had the edge on others. It was such a great atmosphere of appreciation of each other. Those who did not win, though some were clearly disappointed, were pleased for the winners and readily congratulated them.

After the late Saturday night (early Sunday morning!) we all had enough energy for the Wedding Vows Renewal and Gospel Service. Six couples, one in full wedding attire, renewed their wedding vows. It was a very emotional occasion. Not many dry eyes around, including the guys. During the service I encouraged people to understand how much God loves each one of us, and that He wants us to enjoy life!
During the weekend we also had the pleasure of meeting Larry Geller and his lovely wife Sheria who were two of the other judges. Larry clearly knew Elvis very well and speaks so lovingly of him. The photo below shows Peter and Madeleine Wilson with Larry and Sheria Geller.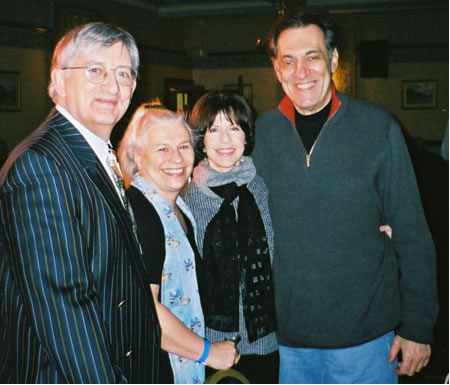 We have also been judges at the Elvis contests in Birmingham and Bridlington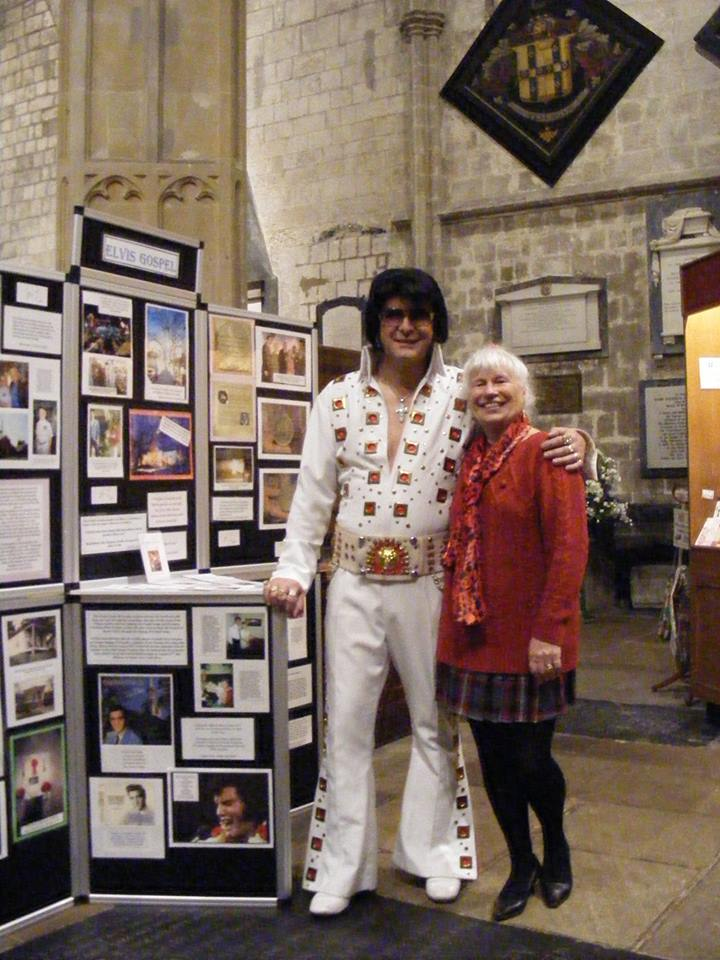 Fan Club President Madeleine Wilson, seen here with Tribute Artist Steve Caprice with our Elvis Gospel display stand in Bridlington Priory