Showing Elvis Grace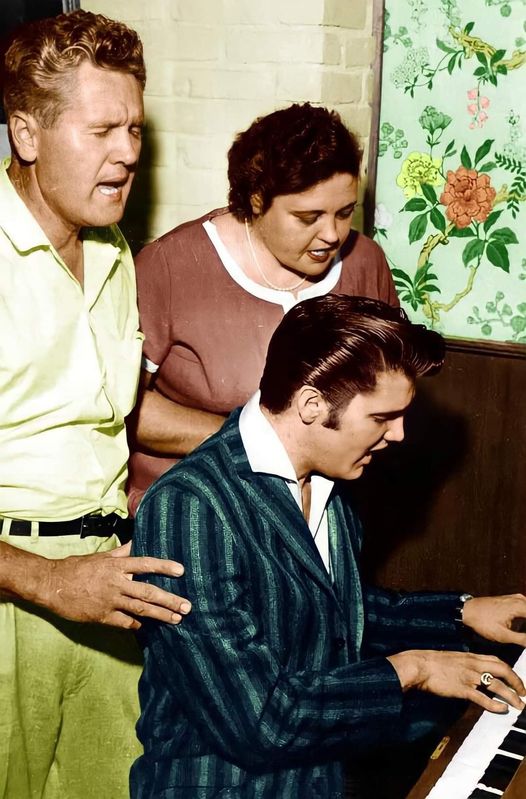 When Elvis Presley and his crew rolled into Jacksonville, Florida, on August 10, 1956, Judge Marion Gooding had prepared an arrest warrant for Presley charging him with impairing the morals of minors in the event that Elvis swiveled his hips.
Young people at the Murray Hill Methodist Church heard Elvis denounced in a sermon entitled, "Hotrods, Reefers, and Rock and Roll." Elsewhere in town, the Rev. Robert Gray, pastor of Trinity Baptist Church, offered up prayers for Presley's salvation after declaring that the singer had "achieved a new low in spiritual degeneracy." Rev. Gray went on to say, "If he were offered his salvation tonight, he would probably say, 'No thanks, I'm on the top.'"
Despite the feverish objections of religious and community leaders, young fans packed into the shows. Each of the six performances in two days at the Florida Theater were sold out with 2,200 Jacksonville teenagers at each one, separated from the stage by a line of uniformed policemen.
The Rev. Gray gained national notoriety after being featured in Life magazine. Elvis later confessed frustration at the Baptist preacher's actions. "I think that hurt me more than anything else at first. This man was supposed to be a religious leader, yet he acted that way without ever knowing who I was or what I was like," said Presley. "I believe in the Bible. I believe that all good things come from God.…I don't believe I'd sing the way I do if God hadn't wanted me to. My voice is God's will, not mine."
As a young man, Elvis was raised in poverty and southern Pentecostalism. He attended a conservative Assemblies of God church, but would often sneak off in the middle of the service to listen to the preaching and singing at a black church less than a mile away. Elvis loved gospel music and dreamed of singing it professionally before his own career took off in the mid 1950s.
"When all-night gospel sings became the rage – with crowds of fifteen hundred filling downtown's Ellis Auditorium – Elvis was there. He…gloried in the gospel sings sponsored by Memphis's First Assembly of God church," write Peter Harry Brown and Pat H. Broeske in their book Down at the End of Lonely Street.
Elvis's devoutness extended far beyond his love of gospel music. "We used to read the Bible every night, if you can believe that – he used to read aloud to me and then talk about it," testifies Dottie Harmony, who dated Elvis in 1956. "He was very religious – there was nothing phoney about that at all."
Authors Brown and Broeske observe, "From his childhood in Tupelo-sitting in the open-air meetings of the fundamentalist Assembly of God church-to his final soul-searching years, he was influenced by the Bible and its teachings."
In those early days, Elvis was not shy about speaking forthrightly about his religious beliefs and his hopes that God would lead his path. "I never expected to be anybody important. Maybe I'm not now, but whatever I am, whatever I will become will be what God has chosen for me," he told Photoplay magazine in 1957. "Some people I know can't figure out how Elvis Presley happened. I don't blame them for wondering that. Sometimes I wonder myself.…But no matter what I do, I don't forget about God. I feel he's watching every move I make. And in a way it is good for me.…I just want to let a few people know that the way I live is by doing what I think God wants me to. I want someone to understand."
Throughout his life, gospel music was a constant element of solace to the man who was burning the candle at both ends in the fast lane of international celebrity. The only Grammy Awards that Elvis earned were with his gospel records and his endeavours garnered him a spot in the Gospel Music Association's Hall of Fame. To many fans, he is as well known for "How Great Thou Art" as he is for "Blue Suede Shoes."
Elvis owed a lot to gospel music and was stubbornly adamant about showing his gratitude. He was one of the only rock and roll stars who recorded religious music-crossing back and forth over the divide between the secular and the sacred. He insisted on singing "Peace in the Valley" on the Ed Sullivan Show for his mother and even took gospel music into the International Hotel in Las Vegas.
( From a commentary by Steve Beard )